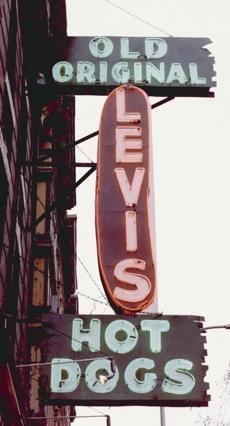 PHILLY 2012
WEDNESDAY, July 18th, 6 p.m.
517 S. 4th Street (near South Street)
Wienermobile 76th Birthday Party and opening of the South Street Museum show "Hot Dog on South Street"
PLUS: Relighting of the LEVIS 12-foot neon sign.
FRIDAY, July 20th, 6 p.m. to 9 p.m.
Hot Diggity, 630 South Street
Opening of the "Hot Dog Art and Artifacts" exhibit.
SUNDAY, July 22nd
600 block of South Street
Block party (see www.southstreet.com)
MONDAY, July 23rd, Noon
Fifth and South Streets: Gus's hot dog cart
"History in Action" display and lecture. Meet Joel Spivak, South Street historian. (Gus has great hot dogs.)




| | |
| --- | --- |
| Above: Hot Dog cart circa 1946. Right: Queen of National Hot Dog Week 1948. | |
September 30, 2011
LOOK ON LANCASTER AVENUE
--- 3820 Lancaster Avenue ---
Randy Dalton will curate "Discover a Dozen or more out of the blue" with a reception from 5 to 9 pm. The show will include artists John Taylor, Angela Klarner, Diane Keller, David Slovic, James Dupree, Tony Fink, Victor Thompson, Randy Dalton, Suzanne Wheeling, Michael Mooser, Nancy E.F. Halbert, Claes Gabriel, Lane Davis, and William Slovis.
On the second floor Carolyn Healy and John Phillips are presenting a new site-specific installation with sculpture, sound and video.
Also on display will be "Neighborhood Narratives" work by the students of Hana Iverson's course at Drexel University featuring visual and audio portraits of Lancaster Corridor residents.

See other projects at other Lancaster Avenue addresses on Sept. 30 as part of "LOOK ON LANCASTER AVENUE"

Sunday, March 13, 2011 @ 2:00 p.m.
PHILADELPHIA RAILROADS
- A LECTURE BY JOEL SPIVAK
Philadelphia Chapter - Victorian Society of America
Upsal Station
Philadelphia, PA


Tuesday, April 19, 2011
North Jersey Electric Railroad Society


---
Come on down to South Street

The Dumpster Divers are now showing at their own gallery on South Street. Come down to 734 South to see their unique creations.

Last Friday in Philly is currently focused on the South Street space.

On this last Friday and for the foreseeable future, come check out all the new art galleries on South Street between 3rd st and 8th.
---
Featured Poets: Dorothea Grossman, Elaine Terranova
Dorothea (Dottie) Grossman
The late Allen Ginsberg called Dorothea Grossman's poetry "clear, odd, personal, funny or wild-weird, curious and lucid." The award winning poet lives, works and writes in Los Angeles. Her work has appeared in a variety of poetry magazines and journals. She has three published books of poetry: Cuttings: Selected Poetry 1978-1988; Poems From Cave 17, and Museum of Rain. Her latest chapbook, The First Time I Ate Sushi, was published by Zerx Press in January, 2008. "Call & Response", her CD on the pfMentum label, features her in performance with trombonist Michael Vlatkovich. Visit Dorothea on the web here.
Elaine Terranova
Elaine Terranova was born in Philadelphia, Pennsylvania, where she came of age in a working class neighborhood. She received a Bachelor's degree in English from Temple University in 1961 and an MFA from Vermont's Goddard College in 1977. Terranova has been an editor and a teacher of creative writing, as well as an Artist in Education in Pennsylvania schools. She has served on the faculty of the University of Delaware, the Curtis Institute of Music, and Temple University. She is currently on the faculty of the MFA in Creative Writing Program at Rutgers University, Camden, and teaches at the Community College of Philadelphia.
---
FEBRUARY 27, 2009
---
Blue Theater
At the Community Education Center (CEC), 3500 Lancaster Avenue in the Blue Grotto 8:00 p.m.
Short plays by Philadelphia Dramatist Center Writers: Robert Castle, T.J. Stokes, William Burrison, and Gil Sokolow
With blues guitar by Don Golfen and featuring actors, Dawn Harvey, Steve Lippe, Lawrence Beck, Mark Cairns, and Jackie Douglas.
Free Admission. This series will presented again March 6, same time, same place.
Griotworks presents
Emancipation of a Soul
Friday, Feb. 27 and Saturday, Feb. 28, 8:00 p.m., Community Education Center (CEC) and Meeting House Theatre, 3500 Lancaster Ave. 215.387.1911
This weekend, several community-based dancers, musicians and storytellers will collaborate on a project called Emancipation of a Soul. Written by Philadelphia storyteller Joslyn Ladson, Soul tells the story of Africans in America through fables, dance and West African percussion. The multimedia production journeys from the Middle Passage to the present day through a series of vignettes created by Ladson and brought to life through the talent of Philadelphia's budding artists. Saturday night's show will be followed by the Free Soul Café, an open mic gathering that invites you to share your own stories, songs, poetry or music.
Tickets are $10 in advance and $15 at the door. The open mic is free with admission to the show and $5 without.
JANUARY 30, 2009
---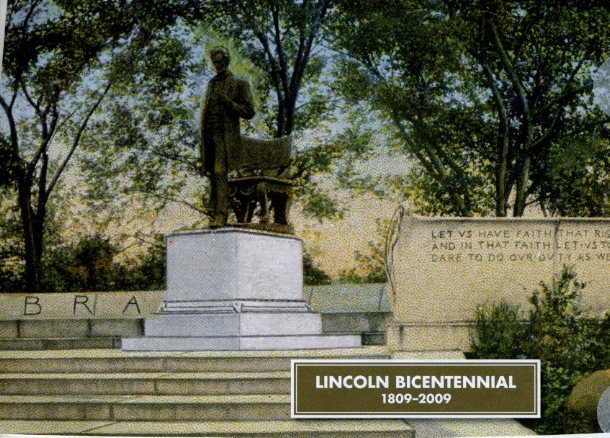 HAPPY NEW YEAR
And Happy Lincoln Bicentennial!
This Friday:
Final showing of THE BLUE GROTTO at 3820 Lancaster Ave.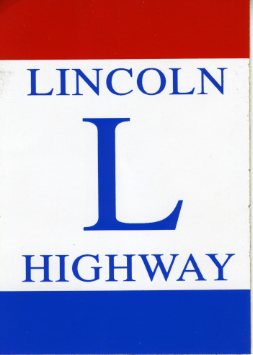 6:30 PM to 8:00 PM:
The first gathering of The Philadelphia Lincoln Highway Celebration Committee, right on the route that was part of the first road across the US.
Come out and join in the creation of a Lincoln Bicentennial Event. "the Lincoln Highway in Phila."

ALL ARE WELCOME.
DECEMBER 26, 2008
---
---
SINGING ALONG THE AVENUE
Holiday entertainers will stroll the avenue
beginning at the Grand Lighting Ceremony
5:00 p.m. to 7:00 p.m.
FEATURING: JAY & THE YOUNG MINDS OF THE FUTURE
Chanelle, Yvette, Stephanie, Doris and Paul

ENTERTAINERS WILL PERFORM AT THESE LOCATIONS:
Ed's Buffalo Wings & Pizza, 3513 Lancaster Ave.
Mad Greek Steaks, 3517 Lancaster Ave.
Powelton Pizza, 3651 Lancaster Ave.
Blue Grotto, 3820 Lancaster Ave.
La Pearl, 3857 Lancaster Ave.
Mai's Nails, 3880 Lancaster Ave.
Philadelphia Police 16th District, 3900 Lancaster Ave.

ALSO AT THE BLUE GROTTO:
RANDY DALTON: "HOMAGE TO DA CHAMP"
Plumbing the depths on the rocky road to Philly art.
5:00 p.m. 3820 Lancaster Ave.
---
OCTOBER 31, 2008



HALLOWEEN ON A RUE DO BLUE

On the last Friday of October, the 31st, Lancaster Avenue from 35th to 39th Streets will debut as a 'Rue "Do Blue"' offering exhibitions, outdoor light sculptures, entertainment, and a Best blue costume contest and dance party.

Do Blue is an avenue for individuals, organizations, and communities to demonstrate support for the arts and spark more resources for that beleaguered but vital sector of the economy.

Three exhibitions will be open from 5:30 pm to 8:30pm

New paintings by Emil Baumann and Bill and Betty's Bazaar
East Africa Center 3809 Pearl St.

Homage to Da Champ, plumbing the depths on the Rocky road to Philly art. An exhibition of mostly new work by found object artist, Randy Dalton.
3820 Lancaster Avenue

The Blue Grotto, the headquarters of "Do Blue" Randy Dalton's conceptual art project featuring over a hundred blue light sculptures in a lounge like setting. Dalton is blue because the arts don't get the credit and cash they deserve considering their importance in creating a meaningful quality of life.
CEC - 3500 Lancaster Avenue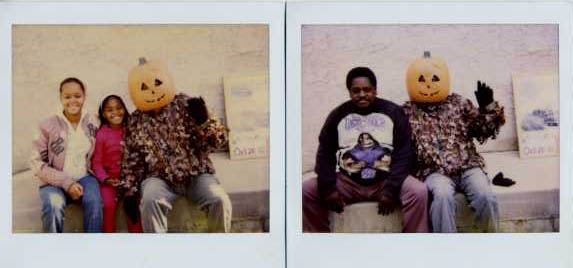 Other activities at the Community Education Center (CEC):

5 -7 pm Hot dog for Halloween - Kids' pictures with Mr Pumpkin

6:30 pm Halloween bonfire stories with the "Ghost writers"

8 pm to 10:15 Music by Polar Bear and Steven Bluhm

10:30 pm to 1 am Dancing in the Skyline Studio with DJ Stewart Bass and Twister Baby, a blues band with Kevin Mullavey, Phyllis Hochberg, Chuck Brenna, and Jay Jurina. Costume parade and contest. 11:30 pm. $10.

---
SEPTEMBER 26th, 2008
Walk tour and pizza eating
Fri Sept. 26 - 6:00 to 7:30 p.m.

Lancaster Avenue starting at 34th street, proceeding up to 40th st.

Tour is free - pay for your own pizza.

Students from E3 Center West and local historian Joel Spivak will walk up Lancaster Avenue from 34th to 40th viewing the architecture and sharing the stories about the Avenue that the students have been collecting.

Along the way we will be stopping at the 4 pizza shops and comparing their styles. A food discussion will follow.

More info at (215) 514 2791




---
June 27, 2008


Ride the Market St. El
with a Transit Historian
and see the last remaining station
- (63rd St.) -
and a few sections of the Elevated structure
(opened on March 4th, 1907).
Guided Tour will begin at 7 PM Friday Jun 27th, 2008 at the front car end of the west bound platform.
Tour is free and takes about 2 hours.

Details.... Joel 215 514 2791

SEE PHOTOS FROM LAST FRIDAY IN PHILLY FOR MAY - MEMORIAL DAY



Extended thru May: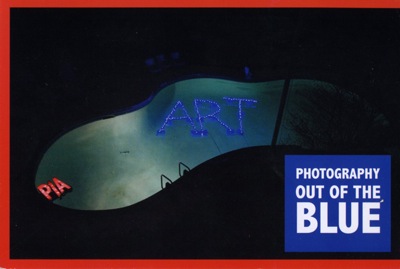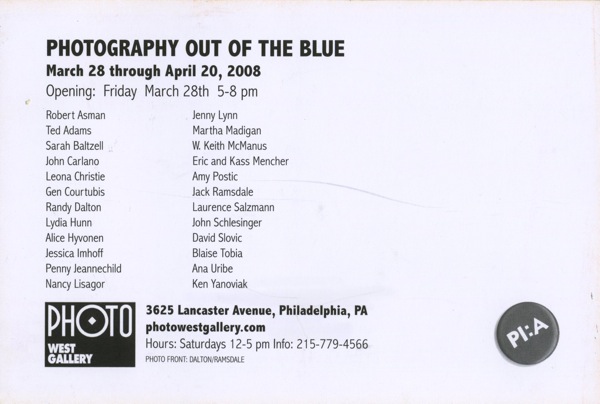 ---
May 30, 2008


MEMORIAL DAY CELEBRATION 2008
ON LANCASTER AVENUE



$100 CASH PRIZES:
Decorate your store, house, car, bike or yourself and join the celebration along Lancaster Avenue from 34th to 40th Street.

Decorations can be put up on May 26th, but must be up on May 30th - The Real Memorial Day!

Prizes awarded that day.

Official Ceremony at the War Memorial, 37th and Lancaster, at 6:00 PM.

Additional information: Joel Spivak: 215-755-7717 or 215-514-2791
www.restorememorialday.com





April 25, 2008

---
LAST FRIDAY OPENING

Opening reception, Fri April 25th
6:00 pm till 9:00 pm


215-382-1541
Recent works: Emil Bauman. 2nd floor gallery.
East Africa Center, 3809 Pearl st.
---


Also, get ready for the real memorial day (May 30th) as it will be celebrated on Lancaster Ave.


Check back in early May for details. Also see here.

(Did you know that Lancaster Av. is the Lincoln Highway?)
---
---
March 28, 2008
5:00 - 7:00 p.m.
EXHIBIT & BUILDING TOUR:
The Life & Times of 3820 Lancaster Ave.
CONTINUES...
---

February 29, 2008
5:00 - 7:00 p.m.
EXHIBIT & BUILDING TOUR:
The Life & Times of 3820
Excavation of the existing structure has begun - to determine how to float the new stairway.
ALSO ON DISPLAY THIS MONTH:
Deeds of the property back to 1877, when the area was first subdivided.
An early British map showing the roads and ferrys of the surrounding area.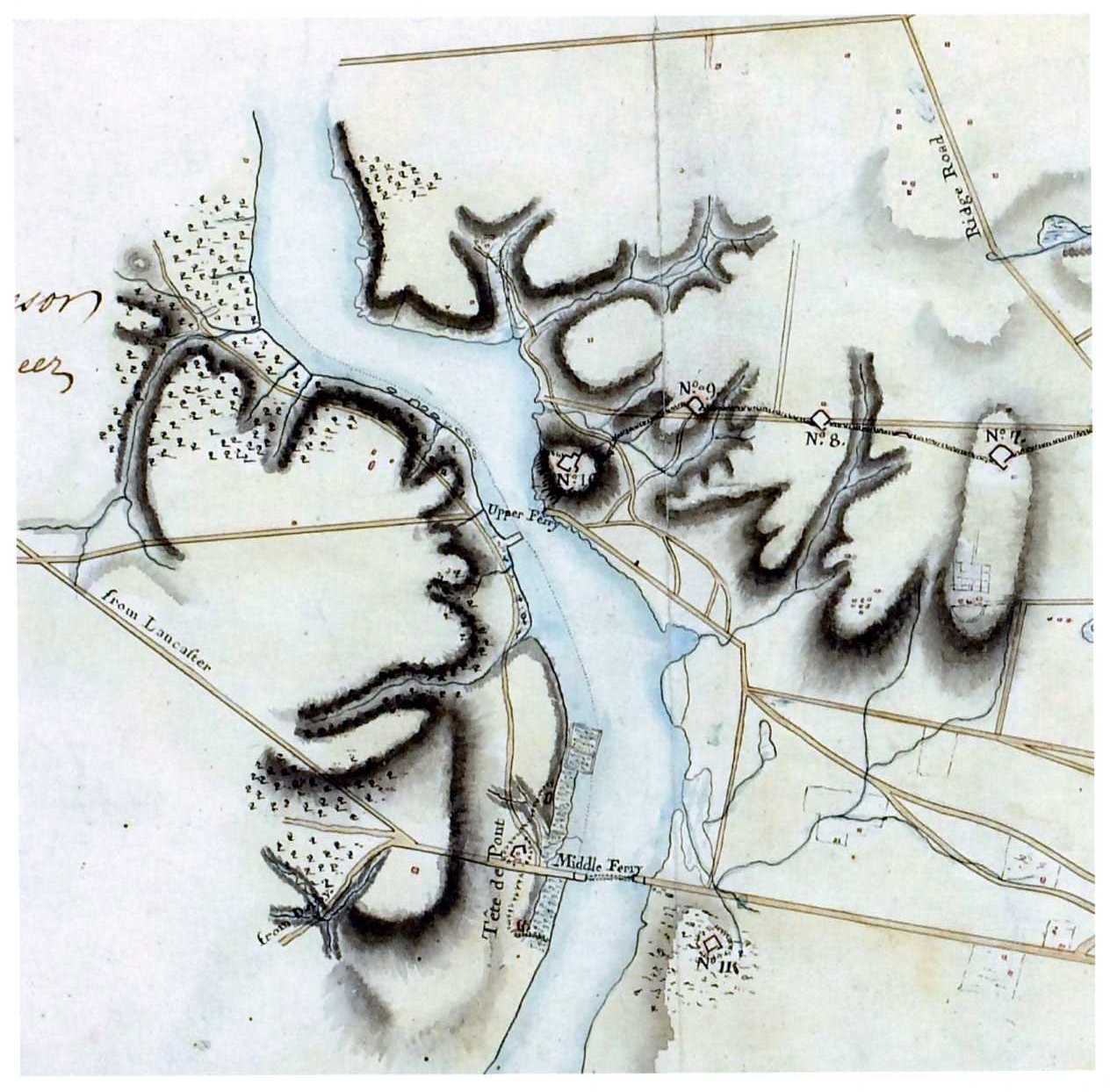 AND: February 29th is The Extra Day!
Joel will take advantage of The Extra Day by photographing the area from 34th to 40th street along Lancaster Ave. How will you take advantage of it?
THE EXTRA DAY
Never seem to have enough time...
Well, now you have an extra day!
365 plus 1 (for you).
Create something wonderful to do on that day and tell us about it.
---
January 25, 2007
6:00 - 7:30 p.m.
EXHIBIT & BUILDING TOUR
EXHIBIT: "The History of the Route 10"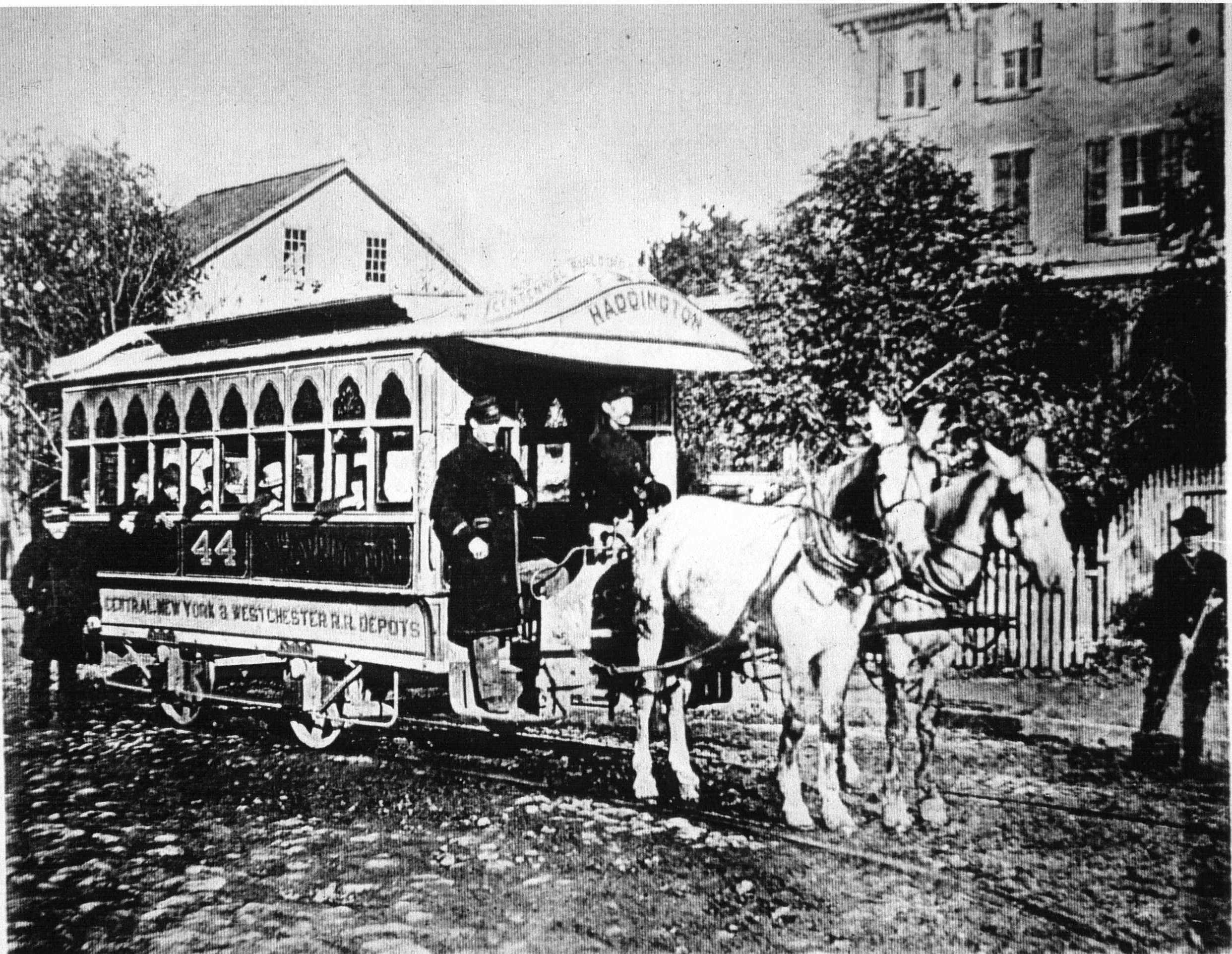 The Hestonville, Mantua, and Fairmount Street Railway began opperating a Horsecar Line from 2nd and Walnut Sts. to Belmont and Lancaster Aves. in 1864.
The line was electricfied in 1894 and became a Subway Surface Route in 1906.
See how all of the different routes eventually became the Route 10.
TOUR: "The Life & Times of 3820 Lancaster Ave."

Built in the late 19th century, the building has had many uses. It was "First Resurrection Baptist Chursh" from 1967 to 2006.
In the 1940s it was a 2-family dwelling and a wallpaper store.
Take a tour through the building and learn about the renovations that will be ongoing this spring.
The tour will continue in separate Last-Friday installments as the year goes on and the renovation is completed.
December 28, 2007
5 to 8
---
---
SINGING ALONG THE AVENUE
Holiday entertainers will stroll the avenue
beginning at the Grand Lighting Ceremony
JAY & THE YOUNG MINDS OF THE FUTURE
Chynelle and Veronica
5:00 p.m. 3500 Lancaster Ave.

"BLIGHT TO LIGHT"
by Randy Dalton
At the CEC and beyond

---
---
ENTERTAINERS WILL PERFORM AT THESE LOCATIONS
3600 Block (Lower End)
Zocalo - Treats & Things
Dr Cycles
Jeans & Things
Lemon Grass
Green Line Cafe - 3649
Stan's Deli - 37th & Lancaster
Ted's Pizza & Spring Chinese- 38th & Lancaster
Scooter Pub 3800
African Art Gallery 3808
étae - 3816
Lindsay World Headquarters - 3818
New Angle Tavern (Near Haverford Ave)



---
November 30, 2007
---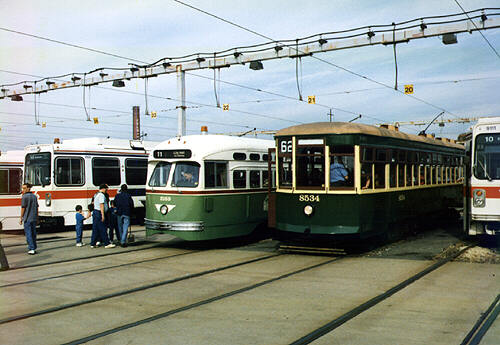 Illustrated Lecture and Book signing
Philadelphia transit historian Joel Spivak will present
Subways of the World,
featuring the Philadelphia systems.
At the Community Education Center,
Friday Nov. 30 - 7 to 8 p.m.
---
FREE ADMISSION
---
Also visit the Blue Grotto on the lower level at the CEC.
Directions | More info: joelspivak@comcast.net
---
FIND OUT FIRST
Enter your email to be informed each month when the Last Friday festivities are set! (Email addresses will not be used for any other purpose.)